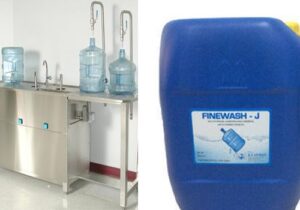 Jar Cleaning Liquid Detergent (Fine Wash-J)
Finewash-J is a speciality formulation of low foaming qualities containing wetting agent that allows rapid penetration to remove fat, oil, grease or grime.
FineWash-J Jar cleaning chemical is low foaming cleaning compound used in wide range of Industry Applications like Dairy, Food & Beverage and specially formulated for Internal Jar Washing in Packaged Drinking Water Industries.
Due to its outstanding features, such as precise pH value, high purity level, accurate composition and capacity to remove fat, oil, grease or grime swiftly, this Liquid Detergent Chemical is used in packaged drinking water industries for cleaning the jar surface.
KEY FEATURES & BENEFITS
It is a specially formulated for Cleaning of Jar surface used in Packaged Drinking Water companies.
Improves operational efficiency by removing deposits.
It is low foaming and suitable for use in CIP applications.
It is completely non-hazardous, safe and suitable for manual & machine cleaning applications.
PACKING : Available in 30 Kg and 50 Kg.