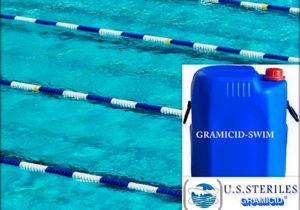 Gramicid-Swim
Is a patented silver and hydrogen peroxide based disinfection for Swimming Pool and has advantage over other disinfectants
Gramicid-swimis tested and verified from a reputed Laboratory like, National Chemical.
It is a chlorine free method of disinfection.
As per the report, swimming pool algae, Euglena gracilisis totally disinfected by using Gramicid-swim. This explains that the swimming pool can remain absolutely free from algae (Green Organic mass) by using this chemical on a regular basis.
Key Features:
No irritation to skin, eyes
Odour-free
Long lasting effect
No toxic effect reported
Non- pollutant and totally bio-degradable