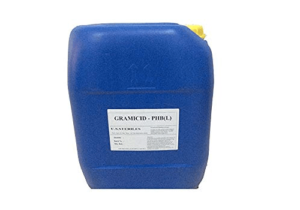 Gramicid-Phb (Ph Booster)
The PH BOOSTER is formulated to increase the PH of water and also replaces soda ash and lime in water treatment.
Dosage– GRAMICID-PHB is generally dosed at 50ppm for increasing the PH of 1 full unit also depending upon the feed water characteristic and alkalinity requirements. (Example: from PH 6.0 to7.0)
GRAMICID-PHBis available in both liquid and powder form.
PRODUCT FEATURES
Eco-friendly
Highly efficient &Highly effective
Biodegradable
Cost competitive
SPECIFICATION :
| | |
| --- | --- |
| pH (as such) | 10.0 to 12.0 |
| Appearance | Clear Liquid |
| Water Solubility | Completely Soluble |
| Specific Gravity | 1.30 +/- 0.02 |