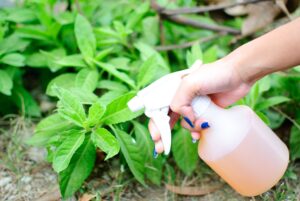 Gramicid-Flora
GRAMICID-FLORA is used both pre-harvest and post-harvest.
| PRE-HARVEST | POST-HARVEST |
| --- | --- |
| ETHYLENE (C2H4) INHIBITION: ETHYLENE (C2H4) INHIBITION:Inhibits ethylene action which delays the senescence/ageing in plants. | VASCULAR PLUGGING:Prevents vascular plugging caused by microorganisms and maintains the water uptake by which the flowers remain fresh for a long time. |
| PROPHYLACTIC ACTION:Controls major bacterial & fungal diseases & increases the plants resistance to diseases. | ETHYLENE (C2H4) INHIBITJONS: Prevents premature withering by suppressing ethylene action in the post-harvest phase, thus increasing the vase life of cut flowers. |
| PRODUCTIVITY INCREASE: By clearing the blockage in the vascular system of plants, thereby increasing the uptake of water and nutrients. | ANTI- SENESCENCE PROPERTIES: delays the cell degradation in flowers, which results in longer colour retention of the petals. |
| PROMOTION OF BALANCED GROWTH:Prevention in Bud Dropping: By inhibiting excessive ethylene levels in the atmosphere, thus preventing abscission of the leaves and buds. | BIOCIDAL ACTIVITY: Prevents post-harvest Bacterial diseases & fungal diseases |
| ECO-FRIENDLY, NON TOXIC AND WIDELY ACCEPTED: Completely biodegradable and has no toxic residue | PULSING OF CUT FLOWERS |
| BIOCIDAL ACTIVITY: PREVENTS MICROBIAL INFECTION : aspergillusniger, A flavus, Botrytis cineria, yeasts and many more | DISINFECTION OF COLD STORAGES & SHIPPING CONTAINERS. |
MODE OF APPLICATION: ULV/Mist Sprayer or Backpack Sprayer.