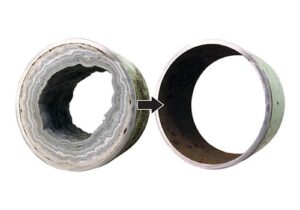 Gramicid-17 (Descalant)
Gramicid-17 is complex formulation of a powerful descaling agent, a surfactant and corrosion inhibitor compound. It is ideally suited for removal of scales from Cooling Towers, Boilers, Coils, Heat exchangers, Chillers and a wide range of heating and cooling systems.
It is particularly effective in removing the problem of milk stones in Milk Industry.
Gramicid-17 becomes a versatile descaling agent which is safer still in terms of equipment corrosion and safety of personnel.
Conventional descaling is a specialized job involving considerable time, energy, money and expertise. When descaling is done with acids like hydrochloric, the risks involved in damage to equipment are considerable.
Personnel safety is also less. The inherent safety of Gramicid-17 makes descaling a simple and routine maintenance job.
Specification:
| | |
| --- | --- |
| Appearance | Brown colour clear liquid |
| pH (as is) | NA |
| Specific gravity at 30°C | 1.15+/-0.02 |
KEY FEATURES AND BENEFITS
Is easy to handle,
Is harmless to equipment & personnel
Dissolves scales rapidly
Offers uniform descaling
Prolongs equipment life
Gramicid- 17 though acidic, is non-hazardous, non-inflammable and unlike HCL does not pave the way for pitting corrosion