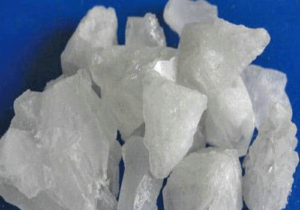 Alum Non-Ferric
Non-Ferric Alum is used in all thermal power plants for water purification. Other applications include cleaning of swimming pool water, drinking water & etp plants.
Non-ferric alum imparts better brightness to paper when used with rosin for sizing. It forms a complex resonate that spreads evenly over the surface of paper.
It finds other uses in pharmaceutical industry. In water purification the highly positively charged aluminium precipitates negative suspensions as sludge.
| Sr. No. | Specifications | Tech Grade | Pure Grade |
| --- | --- | --- | --- |
| 1 | INSOLUBE MATTER % BY MASS, Max | 0.3 | 0.02 |
| 2 | SOLUBLE IRON COMPOUND AS Fe % BY MASS, Max | 0.01 | 0.004 |
| 3 | WATER SOLUBLE ALUMINIUM COMPOUNDS (As Al2O3) % BY MASS, Min | 17 | 16.6 – 17.6 |
| 4 | pH of 5% aqueous solution, Min | 2.8 | 2.9 |