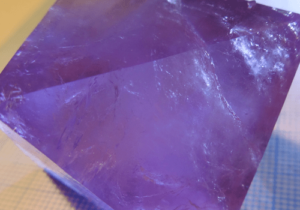 Alum Ferric
Ferric Alum is used to clarify water by neutralizing the electrical double layer surrounding very fine suspended particles, allowing them to flocculate (stick together). After flocculation, the particles will be large enough to settle and can be removed.
Ferric Alum is used in bulk in giant water treatment plants, effluent treatment plants & many thermal power plants.
Ferric Alum may be used to increase the viscosity of a ceramic glaze suspension; this makes the glaze more readily adherent and slows its rate of sedimentation.
It is used in paper manufacturing for loading and sizing purposes.
| Sr. No. | Specifications | Grade |
| --- | --- | --- |
| 1 | INSOLUBE MATTER % BY MASS, Max | 0.5 |
| 2 | SOLUBLE IRON COMPOUND AS Fe % BY MASS, Max | 0.7 |
| 3 | WATER SOLUBLE ALUMINIUM COMPOUNDS (As Al2O3) % BY MASS, Min | 16 |
| 4 | pH of 5% aqueous solution, Min | 2.7 |
| 5 | Free Acidity % by mass, Max | 0.5 |